Dr. Thomas Sütterlin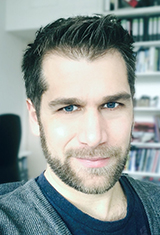 Phone: 06221 / 54-51247


Fax: 06221 / 54-51482


E-Mail: Thomas.Suetterlin@bioquant.uni-heidelberg.de
---

Position: Postdoctoral Researcher

Degrees: Dr. sc. hum., Dipl.-Inform. Med.

Research:
Development of a computer based system for the in silico modeling and simulation of multicellular systems (

EPISIM Platform

)
Multi-Scaled in silico approaches in multicellular systems biology
Epidermal homeostasis and regeneration
Graphical cell behavioral modeling
Multi-agent-based simulations
Tempus Joint European Project (EU - Jordan): "Biomedical Centre of Excellence (BMCE)" (until 2009)

Lecturing:
Foundations in Bioinformatics (ODE and PDE based modeling, graphical cell behavioral modeling), program Medical Informatics (bachelor) (SS09-SS12)
Systems Biology (multi-cellular systems, cell-based tissue simulations), program Medical Informatics (master)
Programming 1 and Programming 2, program Electronic Business at Heilbronn University (WS06/07-SS11)

Publications:

Peer Reviewed Journal Articles:
Safferling K, Sütterlin T, Westphal K, Ernst C, Breuhahn K, James M, Jäger D, Halama N und Grabe N (2013). Wound healing revised: A novel reepithelialization mechanism revealed by in vitro and in silico models. Journal of Cell Biology, 203 (4), pp. 691–709.
electronic version

Sütterlin T, Kolb C, Dickhaus H, Jäger D, Grabe N (2013). Bridging the scales: semantic integration of quantitative SBML in graphical multi-cellular models and simulations with EPISIM and COPASI. Bioinformatics. 2013 Jan 15;29(2):223-9. Epub 2012 Nov 18. PubMed
PMID: 23162085.
electronic version supplements

Sütterlin T, Huber S, Dickhaus H, Grabe N. (2009) Modeling multi-cellular behavior in epidermal tissue homeostasis via finite state machines in multi-agent systems, Bioinformatics, 25, 2057-2063.
PMID: 19535533
electronic version supplements

Sütterlin T, Heid J, Bauch M, Hess F, Haag M, Leven FJ (2006). Rechnerunterstütztes formatives Prüfen am Beispiel des CAMPUS Lehr- und Lernsystems. GMS Med Inform Biom Epidemiol. 2006;2(3):Doc20.
electronic version
Book Chapters:
Sütterlin T and Grabe N (2014). Graphical Multi-Scale Modeling of Epidermal Homeostasis with EPISIM. In, Querleux,B. (Ed.), Computational Biophysics of the Skin. Pan Stanford Publishing, Singapore, p. 421–460.
Articles in Conference Proceedings:
Sütterlin T, Dickhaus H, Grabe N (2011). Automated model-driven generation of software components for the simulation of epithelial tissues. Biomedical Engineering (MECBME)., 1st Middle East Conference on Biomedical Engineering, pp.275-278, 21-24 Feb. 2011, Sharjah, United Arab Emirates (Talk)
electronic version

Sütterlin T, Grabe N (2010). Efficient Modeling of the Spatial Dynamics of Tissues by Automated Transformation of Graphical Cell Behavioral Models into Multi-Agent Based Simulations. Proceedings of the 6th Workshop on Computation of Biochemical Pathways and Genetic Networks, BioQuant Heidelberg, Sept. 2010. Logos Verlag Berlin, ISBN 978-3-8325-2587-3 (Talk)
Abstracts in Conference Proceedings:

Tsingos E, Sütterlin T, Kirchmaier S, Grabe N, Wittbrodt J (2015). Order from disorder - How randomly dividing cells create a homogenous growth profile. Darwin 2.0 - New Tools to Go Through Time, 4th International COS Heidelberg Symposium. (Poster)

Sütterlin T, Tsingos E, Bensaci J, Stamatas GN and Grabe N (2015). Multicellular agent-based modeling and simulation of stratum corneum maturation, morphology and turnover. Int. J. Cosmet. Sci., 37, 143–143. (Talk)

Sütterlin T, Safferling K, Halama N, Jäger D, Grabe N (2014). EPISIM Platform: Graphical multi-
scale modeling and simulation of multicellular systems. 9th European Conference on Mathematical
and Theoretical Biology – ECMTB, Göteborg. (Talk)

Sütterlin T, Safferling K, Halama N, Jäger D, Grabe N (2014). EPISIM: A platform for multiscale
modeling and simulation of multicellular biological systems. 5th Conference on Systems Biology of
Mammalian Cells – SBMC, Berlin. (Talk)

Sütterlin T, Safferling K, Tsingos E, Grabe N (2014). EPISIM: A user-friendly platform for multiscale,
multicellular modeling and simulation of biological systems. German Conference On
Bioinformatics – GCB, Bielefeld. (Poster)

Safferling K, Sütterlin T, Westphal K, Ernst C, Breuhahn K, James M, Jäger D, Halama N, Grabe
N (2014). Wound healing revised: A novel reepithelialization mechanism revealed by in vitro and in
silico models. 5th Conference on Systems Biology of Mammalian Cells – SBMC; Berlin. (Poster)

Sütterlin T, Dickhaus H, Grabe N. (2012). Putting the pieces together: Enhancing Multi-Scale Modeling with Automated Semantic Model Integration. Conference on Systems Biology of Mammalian Cells – SBMC; Leipzig, Germany 2012 (Poster)

Sütterlin T, Dickhaus H, Grabe N (2012). Multi-Scale Tissue Modeling: Semantic Integration of SBML Models in Multi-Cellular Simulations using the EPISIM Platform. Proceedings of the 12th International Conference on Systems Biology; Heidelberg/Mannheim, Germany (Poster)

Sütterlin T, Dickhaus H, Grabe N (2011). Integration of a flexible polygon cell shape model in the EPISIM multi-agent platform for modelling and simulation of epithelial tissue homeostasis. Goryanin, Igor; Goryachev, Andrew (Eds.). Advances in Systems Biology: Proceedings of the 11th International Conference on Systems Biology. Springer, 1st Edition. ISBN: 978-1-4419-7209-5. (Poster)

Grabe N, Westphal K, Safferling K, Ernst C, Sütterlin T, Halama N (2011). Towards an Automated Platform for Researching the Homeostasis of Epithelial Tissue. Goryanin, Igor; Goryachev, Andrew (Eds.). Advances in Systems Biology: Proceedings of the 11th International Conference on Systems Biology. Springer, 1st Edition. ISBN: 978-1-4419-7209-5. (Poster)

Sütterlin T, Dickhaus H, Grabe N. (2010). Cell based tissue modelling by a polygon shape model in a multi-agent environment for the simulation of epidermal wound healing. Conference on Systems Biology of Mammalian Cells – SBMC; Freiburg, Germany 2010 (Poster)

Sütterlin T, Dickhaus H, Grabe N (2009). Modeling and Simulation of Multi-Cellular Behavior in Epidermal Tissue Homeostasis. Startup Conference Medical Informatics. Santiago de Chile (Poster)

Sütterlin T, Dickhaus H, Grabe N (2008). Graphische Modellierung multizellulärer Systeme. 53. Jahrestagung der Deutschen Gesellschaft für Medizinische Informatik, Biometrie und Epidemiologie e.V. , Stuttgart 2008 (Talk)
electronic version

Pommerencke T, Sütterlin T, Dickhaus H, Grabe N (2008). Towards an automated platform for researching the homeostasis of epithelial tissue. Abstractband der GCB (Poster)

Sütterlin T, Heid J, Bauch M, Huwendiek S, Ruderich F, Haag M, Leven FJ (2006). Rechnerunterstütztes formatives Prüfen am Beispiel des CAMPUS Lehr- und Lernsystems. In Löffler M, Winter A: Klinische Forschung vernetzen. Programm- und Abstractband der 51. Jahrestagung der GMDS, S. 79. (Poster)
electronic version

Sütterlin T, Heid J, Bauch M, Huwendiek S, Ruderich F, Haag M, Leven FJ (2006). Rechnerunterstützte Bewertung der Bearbeitung von Kasuistiken mit dem computerbasierten, fallbasierten Lehr- / Lernsystem CAMPUS. Jahrestagung der Gesellschaft für Medizinische Ausbildung (GMA). 10. - 12.10.06, Köln. (Poster)

Sütterlin T, Bauch M, Heid J, Haag M, Leven FJ (2006). CAMPUS - The educational possibilities of the award-winning e-learning application. In Subbarinni M et. al: Proc. of the International Medical Informatics and Biomedical Engineering Symposium IMIBE'06, Amman, Jordan, S. 70-73. (Talk)

Heid J, Sütterlin T, Bauch M, Hess F, Haag M, Leven FJ (2006). Das CAMPUS-Prüfungssystem: Eine integrierte Software zur Durchführung sicherer, summativer, fallbasierter Prüfungen. Jahrestagung der Gesellschaft für Medizinische Ausbildung - GMA. Köln, 10.-12.11.2006. Düsseldorf, Köln: German Medical Science (Poster)